CICA Announces 2020 Student Essay Contest Winners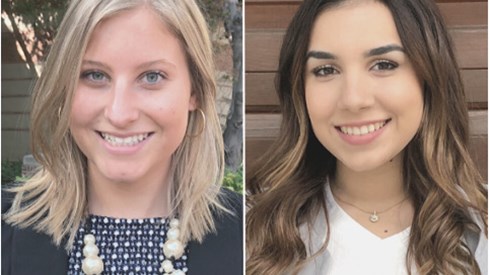 April 21, 2020 |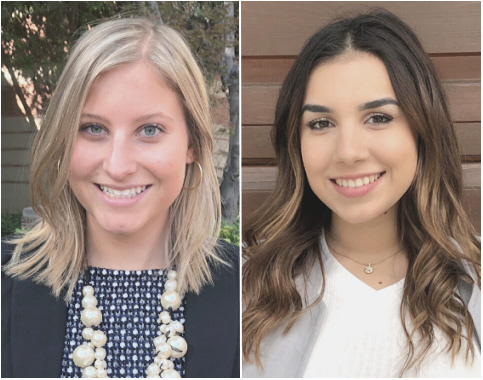 A team of students from the University of Southern California took first-place honors in the Captive Insurance Companies Association (CICA) 2020 college student essay contest, "Captive Insurance Solutions for Emerging Industries."
Megan Moore (pictured above, left) and Natalie Kojababian (pictured above, right) were named the competition's winners during a webinar Tuesday hosted by Strategic Risk Solutions (SRS), sponsor of the CICA Essay Contest. The webinar featured the top three teams presenting their essays and fielding questions, followed by the announcement of the winners.
The winning entry focused on using a group captive solution to provide liability insurance coverage for the cannabis industry. Ms. Moore and Ms. Kojababian shared a $2,500 prize as first-place winners.
Second place in the competition featured a tie between the remaining two in the top three finalist teams. Noting that this year's competition saw an increase in entries, CICA President Dan Towle said that even more noteworthy was how close the final scores were. "In fact, when the essays were scored, the final two teams were in an exact tie in scoring," he said during the webinar.
Tying for second place were Marissa Dias and Samantha Kane from St. Joseph's University, whose essay focused on using a risk retention group to address home healthcare industry risks, and Magda Olivas Carmona and Rudy Martinez of St. Mary's University, who proposed a group medical stop loss captive for the craft brewing industry. Each second-place team received a $1,500 prize.
In a statement, Brady Young, CEO at SRS, said, "We're very pleased with the students' work and their willingness to dig in and learn about captive opportunities not only for today but for growing and emerging industries that can benefit from captive solutions."
The students were originally scheduled to present their essays at CICA's 2020 International Conference in March, but the event was canceled due to the COVID-19 pandemic.
"Writing your essay is one component of the contest. We also want to give the students the opportunity to present to industry organizations that might become their future employers," Mr. Towle said in a statement. "Today we were able to have them present and celebrate their success."
(Photos of Ms. Moore and Ms. Kojababian above are courtesy of Captive Insurance Companies Association.)
April 21, 2020