Michael Corbett and Jennifer Stalvey Take on New Roles in Tennessee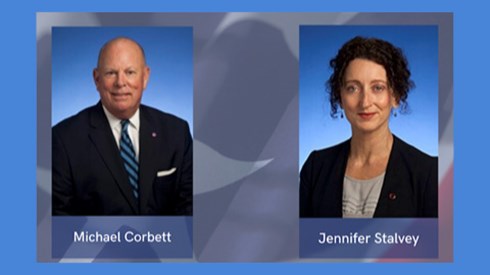 December 13, 2019 |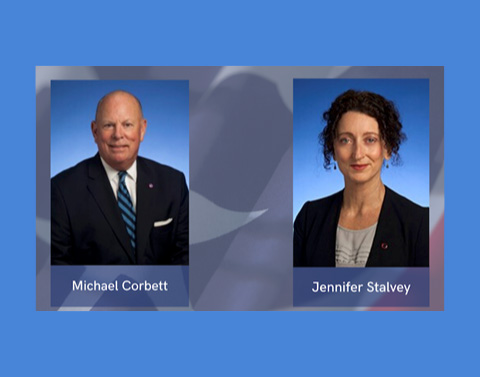 Captive insurance experts Michael Corbett and Jennifer Stalvey are set to take on new roles in the Tennessee Department of Commerce and Insurance (TDCI) to further support Tennessee as a "go to" captive domicile.
Previously the director of TDCI's captive insurance section since 2011, Mr. Corbett will become the director of business development for TDCI's insurance division.
Taking over the director role from Mr. Corbettt, Ms. Stalvey joined TDCI in 2014 and was promoted to assistant director of the captive insurance section in 2015.
"If Tennessee is to continue its upward trajectory, we will need new strategies and fresh ideas," TDCI Commissioner Hodgen Mainda said. "I am delighted that Michael Corbett has agreed to spearhead our new effort to bring more insurance companies to Tennessee by taking on the role as Director of Business Development. His role will focus on cultivating new opportunities separate from insurance regulation by leveraging his experience, contacts in the industry, and regulatory knowledge. With Jennifer Stalvey seamlessly assuming the leadership of the Captive Insurance Section, I am confident Tennessee will quickly be recognized as a 'best in class' captive domicile."
Since Tennessee's captive insurance laws were revamped in 2011, Tennessee has experienced significant growth in the captive insurance sector and is now the seventh-largest captive domicile in the United States.
Through December 2019, Tennessee has 192 licensed captive insurance companies and 460 cell companies totaling 652 risk bearing entities. Tennessee captive insurance companies have collected $12.9 million in revenues and over $5.1 billion in premium deposits since inception.
As part of his new role, Mr. Corbett will develop contacts to help bring more insurance companies to Tennessee as well as establishing objectives with the Tennessee Captive Insurance Association (TCIA) for captive promotional activities during calendar year 2020. Additionally, separate marketing and website development are being created with a full promotional outreach calendar.
"I am honored and humbled to be named to this new position by Commissioner Mainda, and I am excited about what this role will mean for Tennessee," said Mr. Corbett. "I leave the Captive Section in good hands as my esteemed colleague Jennifer Stalvey will continue to bring strong regulatory oversight to the Captive Section with continued streamlining of the analysis and examination processes utilizing best practices."
Ms. Stalvey said, "Captive insurance in Tennessee has progressed a long way in just a short time. I hope to build on our successes with unprecedented growth in the years ahead. I speak for myself and the entire captive regulatory team when I say we are all equally committed to making Tennessee a domicile of choice for captive formation."
Kevin Doherty, president of TCIA, said, "The captive insurance industry in Tennessee is extremely excited about these changes. I believe this shows once again that Tennessee will do whatever it takes to create the most-forward thinking regulatory environment possible in order to maintain Tennessee's position as one of the handful of 'go to' captive domiciles in the nation. Separating the marketing and regulatory functions will allow Tennessee to interface better with the industry and be responsive to industry concerns, while at the same time continuing to maintain the highest of regulatory standards. The future is indeed bright for the captive insurance industry in Tennessee."
December 13, 2019