North Carolina Association Pays Tribute to Key Contributors to Domicile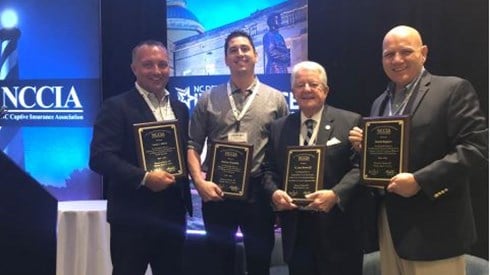 August 23, 2019 |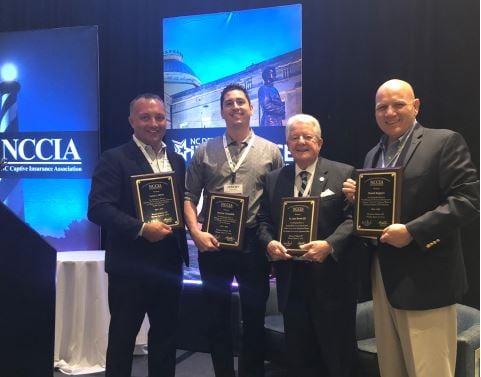 North Carolina has been one of the fastest-growing captive insurance domiciles since the North Carolina Captive Insurance Act became effective in October 2013.
At the end of 2018, a total of 244 active captive insurers were domiciled in North Carolina, up from just 52 5 years earlier. A record 85 captives were licensed in 2016, followed by 66 new captives in 2017 and 46 new captives in 2018.
State regulators attribute that growth to several factors, including an up-to-date and attractive captive law and top customer service.
At this year's North Carolina Captive Insurance Association (NCCIA) conference, the NCCIA paid tribute to some of the important players who helped shape the captive domicile and who served on the association's board of directors. This year, NCCIA distinguished service awards were presented to four individuals moving off the NCCIA Board of Directors. The award commemorates time served on the NCCIA board and as board chairman.
Awards were presented to NCCIA Board Chairman Leon Rives, principal with Rives & Associates, LLP; NCCIA Board Member Jeremy Colombik, president of Management Services International; NCCIA Board Vice Chairman Daniel Reppert, principal and consulting actuary with Financial Risk Analysts; and NCCIA Vice President for Government Affairs Lane Brown.
Each of the award winners has held multiple roles on the NCCIA board.
Mr. Rives said, "What you've seen is the rapid growth of North Carolina as a captive domicile which is also becoming a power player. These awards were given to some of the individuals that have helped shape the North Carolina captive domicile."
Mr. Brown added, "There were four of us that took the original initiative back in 2012 with former insurance commissioner Wayne Goodwin. I was asked to take a role in the legislative initiative because I had been in the General Assembly. We identified a statute that became our template, and from there we crafted the North Carolina statute. Since then we have really evolved."
(Pictured above from left to right are Leon Rives, Jeremy Colombik, Lane Brown, and Daniel Reppert.)
August 23, 2019