Jim Hinton Inducted into Risk Management Hall of Fame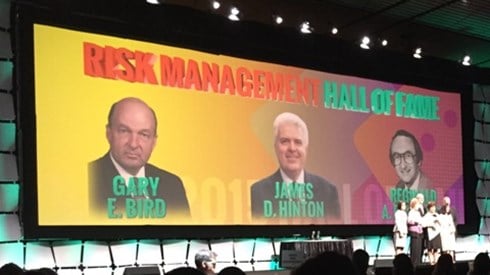 April 28, 2015 |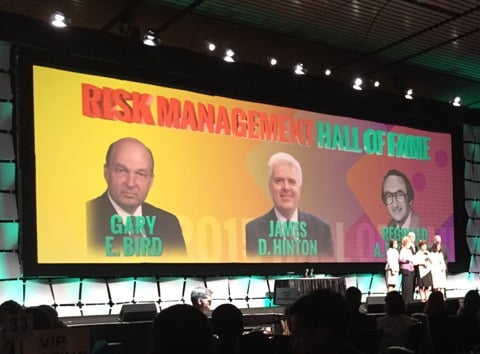 RIMS, the risk management society™, and American International Group, Inc. (AIG), announced captive insurance pioneer James D. "Jim" Hinton as one of three 2015 inductees to the Risk Management Hall of Fame (RMHF) on April 27. The RMHF serves as a means to maintain the history of the field of risk management and recognizes risk practitioners who have made significant contributions to advancing the discipline. The honorees were officially inducted at RIMS 2015 Annual Conference & Exhibition in New Orleans.
Jim Hinton retired in 2012, having worked for the Hospital Corporation of America (HCA) and its predecessor companies for 33 years, the last 23 of which he was the vice president of risk and insurance. He was also the president of Health Care Indemnity, Inc., HCA's captive insurance company. In these capacities, Mr. Hinton was responsible for overall management of HCA's insurance, claims management, and loss prevention programs.
A member of Humana's team in 1989 that won its landmark captive tax case with the Internal Revenue Service, Mr. Hinton was considered a captive insurance expert. He was a frequent speaker on captive insurance at industry conferences prior to his retirement.
Mr. Hinton was an active member of the RIMS Cumberland Chapter in Nashville. He was a Certified Public Accountant (CPA) and a member of the American Institute of CPAs, the Kentucky Society of CPAs, the American Society of Healthcare Risk Management (ASHRM), and the Professional Liability Underwriting Society (PLUS).
Mr. Hinton was recognized as Business Insurance magazine's Risk Manager of the Year in 2005 for his successful programs at HCA. He earned his bachelor of business administration degree, with a specialty in accounting, from the University of Notre Dame and his M.B.A. from the University of Louisville.
Jim Hinton passed away in 2012.
April 28, 2015