Global Insurance Premiums Exceed $5 Trillion for the First Time
July 09, 2019
Global insurance premiums passed the $5 trillion mark for the first time in 2018, equivalent to more than 6 percent of world gross domestic product, according to the latest Swiss Re sigma study, "World insurance: the great pivot east continues." This was based mostly on solid growth in the non-life sector, particularly in China and other countries in emerging Asia, and also among advanced markets, said Swiss Re Institute.
Global insurance premiums are forecast to grow by 3 percent in real terms in 2019/2020, led by the emerging markets. Life premiums will increase by 2.9 percent, well above the 0.6 percent annual average of the previous 10 years, with a bounce back in China the main driver. In non-life, global premiums are forecast to grow by 3 percent, with emerging Asia taking the lead, supported by solid growth in advanced markets. China will contribute most to life and non-life premium growth over the next 2 years, and its share of global premiums will reach 20 percent by 2029, up from around 11 percent currently. China remains on course to surpass the United States as the largest insurance market by the mid-2030s.
Global non-life premium growth was solid at 3 percent in 2018, outpacing the historical average (2.2 percent) as advanced markets slowed and emerging markets grew. In China, non-life premiums rose by 12 percent, driven by strong increases in personal accident and health insurance. This was accompanied by a solid performance in emerging Asia overall. Growth in the global life sector was subdued due to shrinking markets in Europe, China, and Latin America.

Global non-life premiums are forecast to grow by 3 percent in real terms in 2019/2020, above the 10-year average of 2.2 percent. Growth in the emerging markets will remain robust (7 percent), with China again being the main contributor, albeit at a slowing pace given more moderate economic growth there. Emerging Asia will be the world's fastest-growing region, with strong demand for health, liability, and agriculture covers. The non-life sectors in the Middle East, Africa, and Latin America will recover as economies in those regions strengthen.
Non-life premiums in the advanced markets will grow by 1.8 percent, slower than in 2018 but above the historical average of 1.1 percent. This forecast is based on still-solid premium growth expectations in the United States and Canada, with premium rate increases lending support. The other advanced regions will likely follow long-term average growth trends. Profitability in non-life insurance overall will remain under pressure. There has been an improvement in underwriting conditions, but stabilization of the soft market trend has not been sufficient to notably narrow the profitability gap that still besets the sector.
The non-life sector faces a fundamental structural shift over the next decades, with a possible decline in premiums from motor, the dominant line of business today. This potential decline will come as a result of the ongoing evolution of advanced driver-assistance systems and self-driving car technologies, which are expected to lead to lower claims and therefore also lower premium rates and volumes in motor.
The Pivot East, and to China, Will Continue over the Longer Term
While the United States remains the largest insurance market, followed by China and Japan, the shift in global insurance business to Asia will remain ongoing. China consolidated its position as the second largest insurance market globally in 2018, with total premiums written of $575 billion in 2018. As Table 2 below shows, the Chinese market is currently still less than 40 percent the size of the US market ($1.469 billion) and is also smaller than the three largest markets in Europe combined (the United Kingdom, Germany, and France: $836 billion).
However, the current shortfalls only serve to highlight the catch-up potential. Swiss Re Institute forecasts that Asia-Pacific as a whole will account for 42 percent of the global premiums by 2029. China is and will remain a main driver of this development. Its share of the global premiums went from 0 percent in 1980 to 11 percent in 2018 and is forecast to reach 20 percent in 10 years' time, almost as high as the share projected for the whole of Europe, the Middle East, and Africa. China remains on track to surpass the United States as the world's largest market in the mid-2030s.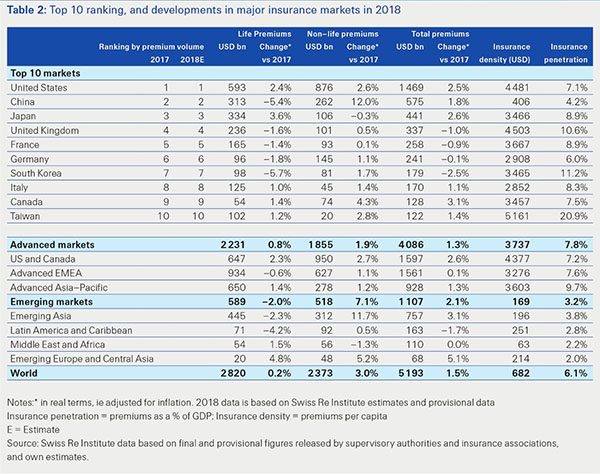 July 09, 2019