CICA Presents this Year's Outstanding Captive Award to ACIG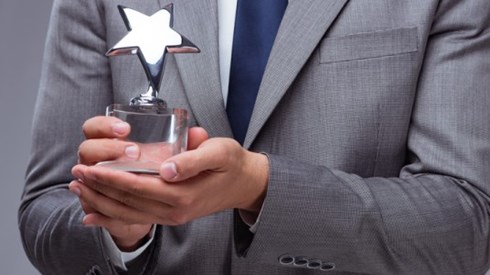 March 11, 2019 |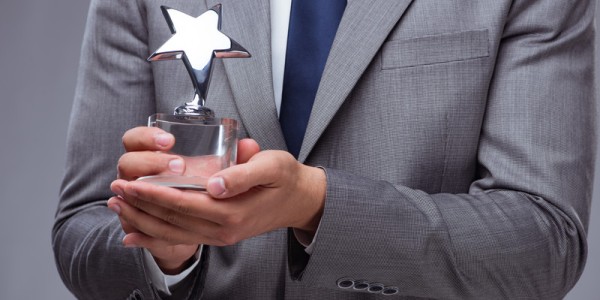 This year's Outstanding Captive Award was presented to American Contractors Insurance Group Ltd. (ACIG) at the opening session of the Captive Insurance Companies Association (CICA) 2019 International Conference. The award is presented to a captive insurance company or risk retention group that has shown creative uses for a captive; been successful in managing the captive in terms of net results and usefulness to its owners; has prevailed over difficult times or situations; and has gained acceptance, recognition, and a positive reputation among rating agencies, regulators, and colleagues in the captive industry.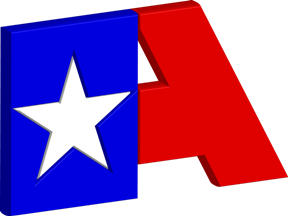 ACIG, a group captive, was organized in 1981 as a Bermuda reinsurance company. Not long after forming ACIG, its leaders started "Project Independence" with the goal of becoming independent of the traditional insurance marketplace.
The first step in this process was the formation of Texas-based American Contractors Insurance Company Risk Retention Group (ACICRRG) followed by the formation of Illinois-based ACIG Insurance Company. Since then, ACIG formed ACIG Insurance Agency Inc. and American Contractors Risk Purchasing Group Inc. Both are Texas-based corporations, and the latter is nonprofit.
Together with its subsidiaries, ACIG writes insurance policies and provides related services to the construction industry. Its policies cover workers compensation, general liability, automobile liability, and financial guaranty exposures. ACIG also provides underwriting, claims supervision, policy filing and issuance, risk management, safety, and quality services for its 38 active members, all of which are privately owned US commercial construction companies.
ACIG and its subsidiaries are rated "A" (Excellent) in the Financial Size Category (FSC), VIII ($100 million to $250 million), by A.M. Best Company, Inc.
ACIG's mission is to save lives, prevent injuries, and reduce the overall cost of risk for its members. Project Lifesaver, an aggressive loss-reduction initiative, has achieved outstanding results over a 16-year period with reductions of 54 percent in the loss rates for workers compensation, 80 percent for general liability, and 30 percent for auto liability.
"On behalf of our construction industry members and team of insurance professionals, we're honored to receive CICA's Outstanding Captive Award. We look to CICA to provide critical information and support by way of its best practice publications. CICA's International Conference brings together leading experts, thought leaders, and service providers to a venue that encourages networking and sharing of best practices. Captives will continue to flourish and grow as they are deployed to finance a myriad of ever-expanding business risks," said Mike O'Neill, ACIG president and CEO.
"I don't really believe in self-made people or organizations that are solely that way. I think everybody has a whole lot of help along the line. And that's been the story of ACIG," said Bill McIntyre, ACIG chairman, at the award presentation. "We've had so many mentors who are no longer with us … who have really made the difference with ACIG. We try to help other upcoming captives and existing captives where we can, because we think we're all in the same boat. A rising tide lifts all boats.
"We've had a couple of situations where we could have been goners, but we have very loyal, steadfast members, and we have great service providers and a great staff," Mr. McIntyre continued. "And some of those service providers—including St. Paul (now Travelers) and the old Continental, as well as Zurich—really helped us through some tough times. Without them, we wouldn't be having this conversation."
Captive.com spoke with Mr. O'Neill for some additional details about ACIG. He laid out the following profile to describe what ACIG is looking for in a contractor member/insured.
Privately owned commercial construction entity (no foreign or public ownership)
Financially sound with a minimum net worth of $20 million
Federal income taxpayer
Over $2 million of annual premiums for workers compensation, auto, and commercial general liability (before any deductible credits)
Willingness to support best practices in the areas of risk management, safety, quality, and claims
Ready to support ACIG's long-term underwriting approach
Sponsored by two ACIG members
Mr. O'Neill also provided us with the following list of factors that he believes have led to the success of ACIG over the past 38 years.
Support and commitment of the construction company CEOs
Focused mission: "To save lives, prevent injuries, and reduce the overall cost of risk for our Members"
Core values: accountability, leadership, integrity, innovation, people, relationships, and excellence always
Producing economic benefits for its members, which includes underwriting profits, investment income, and utilizing its group purchasing power
Project Lifesaver and Serious Injury and Fatality initiatives
Corporate governance
Disciplined underwriting
Accurate loss reserves
Diversified investment portfolio
Transparent financial reporting and performance
A.M. Best Rating: "A" (Excellent), Financial Size Category VIII ($100 million–$250 million)
Best practices and benchmarking
Long-tenured and dedicated senior leadership and professional staff
We asked Mr. O'Neill for his thoughts on the future of the captive insurance marketplace. Here's what he had to say.
I see a very bright future for the captive insurance industry as we face an ever-expanding list of risks and exposures. Global business leaders now rank cyber liability as one of the biggest threats, and captives can be used to develop a responsive program for this emerging risk while tapping into the resources of the global reinsurance market for expertise and financial support.
Supply chain risks are also increasing as materials and component parts that are sourced and manufactured around the world make the long and perilous journey to their ultimate destination. This entails a variety of different transportation modes and the inherent risk associated with each (e.g., truck, boat, ocean cargo vessel, rail, and then back on a delivery truck).
Captives have expanded the lines of business they cover and are frequently used as part of an organization's overall employee benefits plan (e.g., group life insurance, long-term disability, and medical stop loss).
Furthermore, captives have the reputation of being forward-looking and innovative in their approach to the myriad risks that an enterprise faces. The world is getting riskier; managing and financing those risks will create more challenges and opportunities for captive insurers around the world.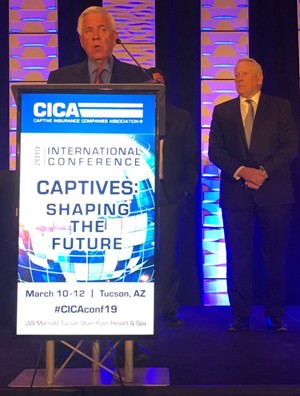 Above, Bill McIntyre, ACIG chairman, left, is pictured with Mike O'Neill, ACIG president and CEO, at the CICA Outstanding Captive Award presentation at the CICA International Conference, March 11, 2019, in Tucson. Below, Mr. O'Neill comments as Mr. McIntyre looks on.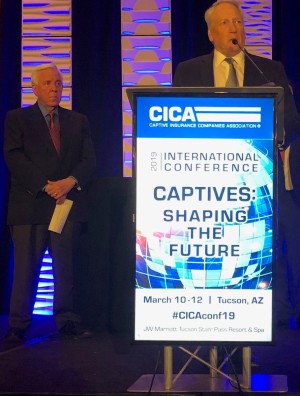 March 11, 2019