Bermuda Committed to Blockchain and Digital Assets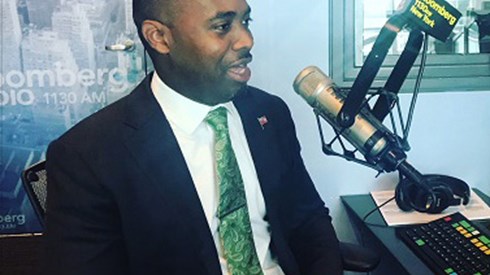 May 08, 2018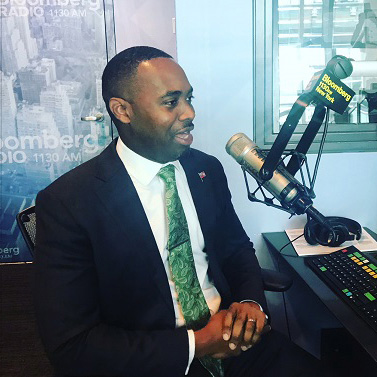 A group of Bermuda representatives recently participated in a series of media interviews and live broadcasts in New York. The discussions focused on emerging technologies as Bermuda works to position itself as the world's first regulated hub for blockchain business and digital assets.
Bermuda Premier David Burt, National Security Minister Wayne Caines, Bermuda Business Development Agency (BDA) Head of Business Development Sean Moran, and BDA Emerging Technologies Consultant John Narraway spoke with Annaliese Milano, a reporter at digital currency news site Coindesk, and Lily Katz, Rob Urban, and Suzanne Woolley, reporters with Bloomberg. The Premier was a guest on two live broadcasts at Bloomberg—his interviews aired on its national radio program "P&L with Pimm Fox & Lisa Abramowicz" and TV program "Bloomberg Markets: Balance of Power."
Discussion topics included the recent commitment by cryptocurrency exchange Binance to open a compliance center in Bermuda, Parliament's passage of new legislation to govern initial coin offerings, plans to add the island's land register and other publicly held data to blockchain, and the government's intention to build an educational initiative to benefit Bermuda youth.
"Media were asking the right questions," said Narraway. "I think we're shifting the discussion to the value of Bermuda's globally respected regulation and the regulatory certainty and transparency the island can provide—which these new technologies are looking for," said Narraway. "We're at the perfect intersection of opportunity arising and being able to seize it."
May 08, 2018