KBRA Perspective: Captive Insurer Rating Methodology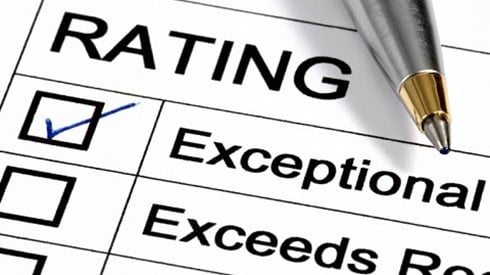 February 08, 2019 |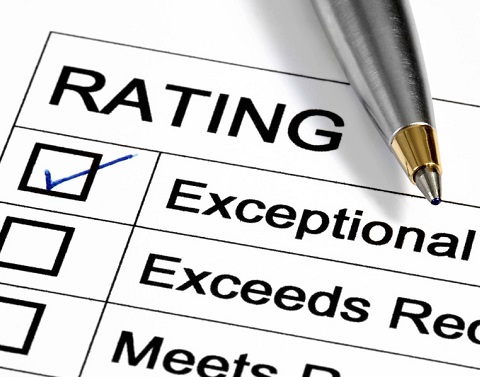 According to a recent report released by Kroll Bond Rating Agency (KBRA), titled, Are Two (IFSR) Ratings Better Than One? You Decide, KBRA said the adage "two heads are better than one" also applies to insurance financial strength ratings (IFSRs). The rating agency said this is because different rating agencies have their own specific methodologies and perspectives.
KBRA said an IFSR provides an independent third-party evaluation of an individual company's ability to pay policyholder claims. The insurance ratings process highlights credit strengths as well as potential weaknesses such as inadequate pricing, poor risk management, and other important factors.
Reasons To Obtain a Captive Rating
According to Tina Bukow, KBRA's senior director of business development, motivators for captive insurance companies to obtain credit ratings include the following.
Corporate governance. The independent third-party oversight of a rating agency can provide the parent corporation's board with much more confidence in the captive insurance company's operations. In essence, it validates that the captive is truly operating as an insurance company, using sound principles to manage the operations. In fact, many captives are put through the credit rating process simply to learn more about the captive's financial health and any additional best practices that the agency might suggest be employed. In such cases, the motivation is not to obtain the actual rating, and the rating is often not even accepted by the captive (and thus not published for the world to see).
Increased emphasis on transparency. Obtaining a rating allows the captive to benchmark itself against other captives that have also been rated. Additionally, of course, a rating can facilitate capital raising should the need arise.
Expense reduction. Having a credit rating from a third-party rating agency provides additional assurance to reinsurers and fronting companies that the captive insurer will be able to carry through with its obligations. As a result, it may be possible to negotiate lower fronting fees and reinsurance premiums.
When asked if he thinks two IFSR ratings are better than one, Captive.com editor and governance expert John Foehl, also a captive board member with the Merchants Insurance Group and cell commissioner for AMERIND Risk, said that, from a governance standpoint, captive ratings make sense. 
And, while Mr. Foehl thinks it may not necessarily make fiscal sense for captives to obtain more than one rating, he suggests that captive insurers looking to be rated would be wise to compare the processes that rating agencies use to provide their ratings and should talk to multiple rating agencies before getting a rating to begin with.
Carol Pierce, director of insurance at KBRA, said KBRA's "insurance methodologies—both captive and traditional—foster a thorough financial analysis of a company, without reliance on a proprietary capital model. So, the final rating outcome will be more accurate."
She also said, "KBRA's ratings are based upon the unique characteristics of the company and, for single parent captives, this includes incorporating a thorough analysis on the parent by our corporate analysts. The process itself is completely transparent and interactive and very focused on the customer."
Ms. Pierce explained that compared with other rating agencies, "KBRA's insurance financial strength rating scale is consistent with the capital markets, or AAA, scale with which chief financial officers and the investment community are most familiar." The following is a side-by-side comparison.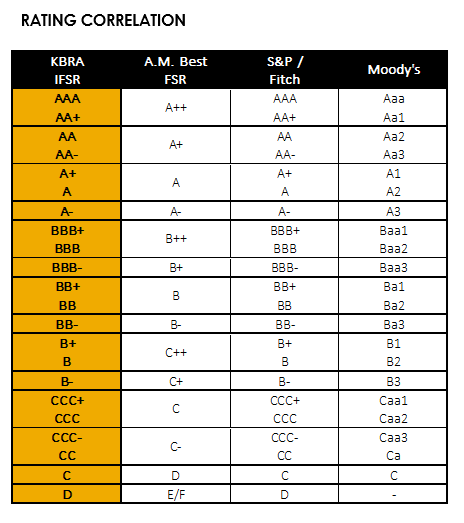 In addition, KBRA's process for assigning an IFSR to a captive is rather simple, according to Ms. Pierce. She said, "The IFSR process is intended to capture the financial and operating risk to the policyholder(s) of the captive and, ultimately, to indicate the likelihood that the captive will be able to meet its policyholder obligations over the long term. KBRA's process is designed to be the ideal blend of quantitative and qualitative analytics. We truly believe that we have developed a methodology that is both comprehensive and yet flexible enough to evolve with the captives and the captive industry over time."
The below graphic represents the four sequential steps in KBRA's captive insurer rating process.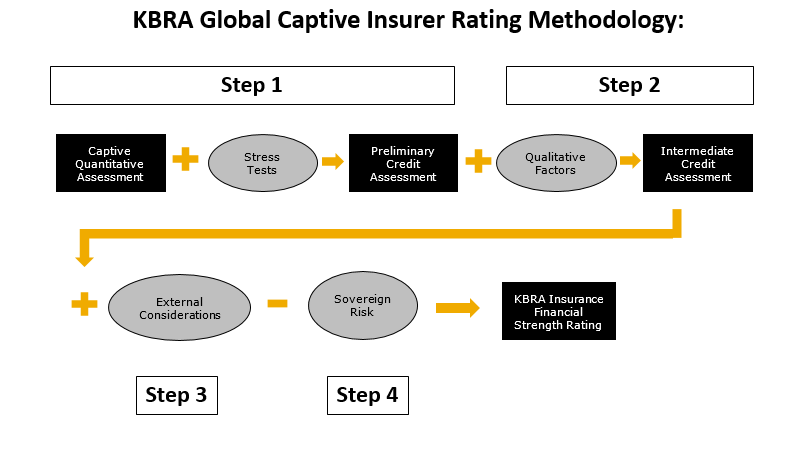 Read in more depth about KBRA's methodology in "KBRA's Unique Global Captive Insurer Rating Methodology."
Complimentary access to the full report, Are Two (IFSR) Ratings Better Than One? You Decide, is available on the KBRA website with registration.
February 08, 2019